Age-Related Macular Degeneration, AMD, is a common eye condition and a leading cause of vision loss among people age 60 and older. It causes damage to the macula, a small spot near the center of the retina and the part of the eye needed for sharp, central vision, which lets us see objects that are straight ahead.
In some people, AMD advances so slowly that vision loss does not occur for a long time. In others, the disease progresses faster and may lead to a loss of vision in one or both eyes. As AMD progresses, a blurred area near the center of vision is a common symptom. Over time, the blurred area may grow larger or you may develop blank spots in your central vision. Objects also may not appear to be as bright as they used to be.
AMD by itself does not lead to complete blindness, with no ability to see. However, the loss of central vision in AMD can interfere with simple everyday activities, such as the ability to see faces, drive, read, write, or do close work, such as cooking or fixing things around the house.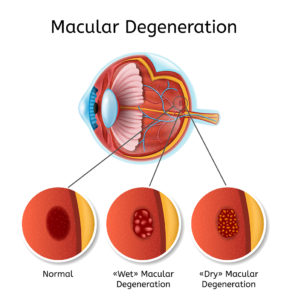 The Macula

is made up of millions of light-sensing cells that provide sharp, central vision. It is the most sensitive part of the retina, which is located at the back of the eye. The retina turns light into electrical signals and then sends these electrical signals through the optic nerve to the brain, where they are translated into the images we see. When the Macula is damaged, the center of your field of view may appear blurry, distorted, or dark.
There are two types of Macular Degeneration- wet and dry. Most AMD starts as the dry type and, in some cases, it can progress to wet type, which is characterized by blood vessels that grow under the retina and leak. The dry type is more common, but it usually progresses slowly (over years). The wet type is more likely to cause a relatively sudden change in vision resulting in serious vision loss. Experimental treatment for dry is presently being tested.  Wet has treatment that would slow down the visual loss. Eye injections are used to help with wet AMD.
Currently, there is no cure for Macular Degeneration but there are different therapies to prevent or even stop further vision loss. Like with many eye conditions, early detection and prevention is key.